A Parent's Guide to Astrology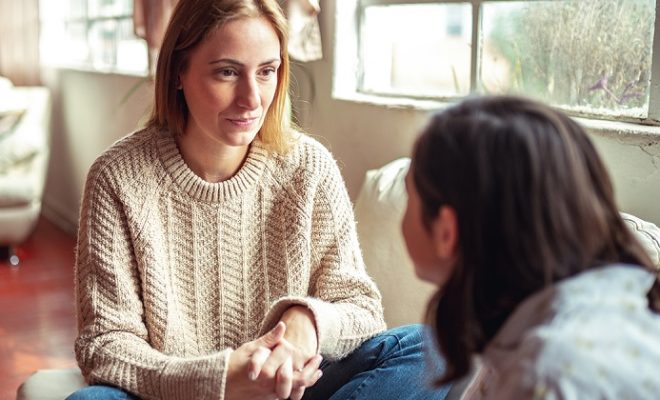 With more and more young people familiarizing themselves with the ancient practice of astrology, especially on social media, parents need to be prepared with a basic sense of what astrology is, what it can offer, and what teens should be wary of. You might already have a vague idea of what the Zodiac signs are and what they signify, but maybe you don't fully understand everything astrology entails. Conversely, you might be completely foreign to astrology and be beside yourself with worry because your teen has started rambling about moon signs and the current positions of Mercury and Venus. You might be thinking to yourself, They're not in a cult, are they?
Thankfully, no, they aren't, and you shouldn't worry. Astrology can actually be a great tool for helping your teenager understand themselves and the world around them in a more well-rounded way, and you should be happy they've taken such an interest in their self-perception and personal relationships! However, over relying and overanalyzing astrology without a full grasp of its shortcomings can definitely lead to some negative habits, so it's important to have an open conversation with your teenager to help them understand some of the pitfalls of astrology. I'm not only going to give a comprehensive rundown of astrology for parents, but help you discern the possible positive and negative impacts of astrology on teenagers.
First Off, What is Astrology?
Astrology is a language many parents don't understand, and it's affiliations with the surreal and mystic can give it an intimidating air. Simply put, though, astrology is the belief that the ways the celestial bodies—the stars, moons, planets, and sun—were organized at the time of a person's birth plays a significant role in their life. Followers of astrology believe a person's Zodiac sign accounts for everything from their temperament to their romantic relationships, from their passions to their professional success. Here are the 12 different Zodiac signs with their corresponding dates:
Aries: March 21-April 19
Taurus: April 20-May 20
Gemini: May 21-June 20
Cancer: June 21-July 22
Leo: July 23-August 22
Virgo: August 23-September 22
Libra: September 23-October 22
Scorpio: October 23-November 21
Sagittarius: November 22-December 21
Capricorn: December 22-January 19
Aquarius: January 20-February 18
Pisces: February 19-March 20
Different signs have different traits. For instance, Aries people are said to be passionate, motivated, direct, and stubborn, while an Aquarius is supposedly more go with the flow, in tune with other peoples' emotions, and aloof. All the Zodiac signs have strengths and weaknesses that play into a person's personality, all of which are set in stone by the time, place, and day a person was born.
This might sound far-fetched, but millions of people find solace in their horoscopes and astrological birth charts. It's important to note astrology is not a science, nor is it a religious belief, and astrology is something people meddle in at different levels.
For instance, if somebody comes up to you and asks, "What's your Zodiac sign?" you might actually know you are, in fact, a Sagittarius since you were born in mid-December. But did you know Sagittarius is technically your sun sign, and that you have an entirely different moon sign that dictates separate parts of your personality? There's also something called an ascending sign, along with many other signs named after the planets. So, you might have a Sagittarius sun sign, a Leo moon, and a Scorpio rising, and each of these paints a more detailed portrait of your personality.
This is where lots of people get lost, and that's okay! Astrology isn't something you have to believe in or understand entirely, but it if your teen is beginning to show an interest in astrology, it's important to know they might begin exploring it in more detail and using this kind of language. The key is to know that astrology is actually a very complicated and in-depth practice of explaining a person's personal traits and relationships, which is why many people find it so convincing.
The Benefits of Astrology on Teens
Now, by no means do I believe the stars and other heavenly bodies dictate our lives, but I also don't think astrology is necessarily a harmful thing for teenagers to engage in. Here are some of the positive things astrology can do for teenagers.
Astrology Gives Teens Perspective
When teenagers begin reading about the different signs and their allotted traits, they begin thinking about themselves, their friends, and their families in a different light. If your teenager is a Cancer, for instance, they may read that Cancers are known for being especially intuitive, but also for being quite moody. This might help your teenager reflect on their own behaviors, boosting their self-esteem, increasing their mental strength, and teaching them to follow their gut while also helping them monitor their emotions. Astrology is a great way to instigate reflection and self-betterment from an outside perspective!
Astrology Introduces Complicated Concepts
Astrology websites and articles often talk about how a person's Zodiac influences things like handling confrontation, setting boundaries, dealing with stress, and having healthy romantic relationships. These are things many teens don't yet fully comprehend, but reading about them (and what they should watch out for) can help them form a healthy understanding of how to deal with these important life skills.
Astrology Can Be Fun!
There's no denying reading about the different signs, their meanings, and how they influence you and your friends is super entertaining, whether you believe it or not. For many, astrology is nothing more than a harmless hobby, and it might be something that brings your teen significant joy. It can be a great way for your teen to bond with friends and form closer relationships!
What to Look Out For
While astrology can definitely be a good thing for teenagers, it also has some definite pitfalls. Even expert astrologers acknowledge astrology can't account for everything in a person's life, so it's important to know where to draw the line. Here are a few things to look out for when your teen starts looking to the stars.
Astrology Can Stunt Personal Growth
If your teen takes astrology too seriously, they might believe their personality, skills, and passions are already set in stone. You need to make sure they understand astrology isn't a fact-based science and that they still need to do everything they can to become a well-rounded person. It isn't fair or smart for them to lean on the fact that they're a Gemini to hope they'll be successful later in life or to stop trying to improve themself.
Astrology Can Lead to Bullying
Similarly, it isn't fair for your teenager to make assumptions of other people based on their Zodiac sign. Just because somebody's a Scorpio doesn't mean they're a distrusting, jealous, and overbearing person. If your teenager relies too much on a person's astrological signs to create character judgments, they'll become biased and treat others unfairly. It's important to let your teen know astrology isn't a reason to assume negative things about somebody else.
Astrology Can Prevent Meaningful Relationships
Astrologists believe certain signs are more compatible with others. Aries and Gemini, for instance, are said to be very good friends and romantic partners. However, you need to make sure your teenager isn't dictating their personal relationships based on somebody's birthday. This kind of predetermined judgment is far from what astrology is supposed to accomplish, and can seriously hinder your teen's personal life.
The Big Picture
Astrology is a pseudo-science, and something that has helped millions of people throughout history better understand themselves and the world around them. While it's important for you to explain to your teenager how astrology is far from an all-knowing dogma, there's nothing wrong with letting them explore astrology and use it to form an understanding of themselves and the world around them. Just think of it as another tool in their belt.
Author Bio:
Andy Earle is a researcher who studies parent-teen communication and adolescent risk behaviors. He is the co-founder of talkingtoteens.com, ghostwriter at WriteItGreat.com, and host of the Talking to Teens podcast, a free weekly talk show for parents of teenagers.